About Us
The Driving Centre opened its gate in 1998 and ever since it is Hungary's most modern driving technique facility. The Centre is situated in the exclusive area of Hungaroring.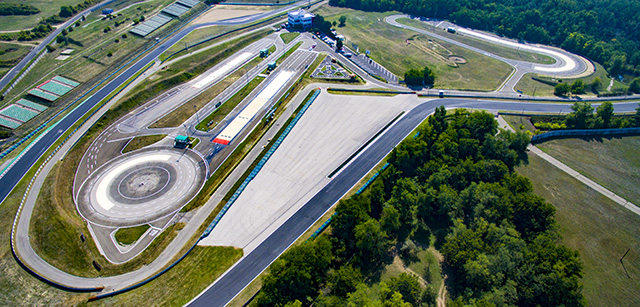 Our team members and instructors have a strong blend of professional and personal experience and understanding. Besides the traditional driving technique courses we offer a wide range of other services:
Fuel-efficient driving course
Defensive course
High-speed driving technique course
E-Learning
All driving technique centres have artificial resin road surface and water walls and so do we. All of our tracks are covered with artificial resin and we use water walls as well. The grip of the wheels is the same on this artificial resin surface as a wet, icy road surface. The artificial resin surface serves two purposes: due to the slippery surface the car already slips at a lower speed however this practice doesn't damage the wheels. In case of a higher speed, the car acts the same way on dry surface as well. You can practice safely how the car acts in these circumstances and how to correct the steering.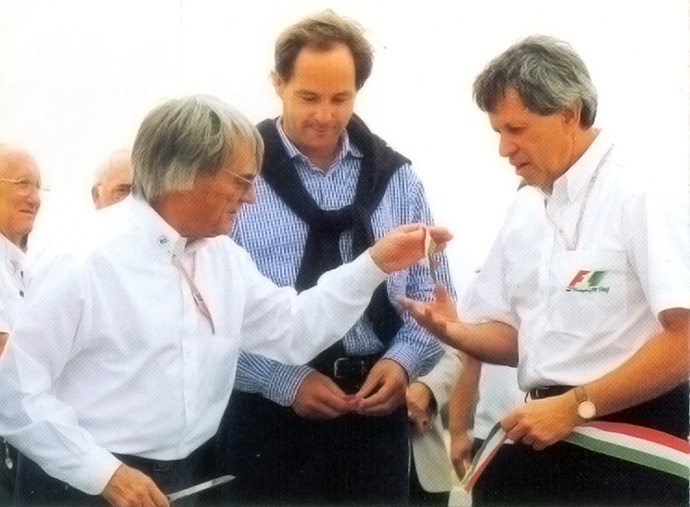 1998-ban a Tanpálya megnyitása idején Gerhard Berger nevét viselte
The Groupama Driving Centre organizes the events of Hungaroring Off-road Centre and the Hungaroring Motorcycle Academy. Our Centre also organizes the events of Hungaroring for children at the Miniring.
The number of the attendants is significant: Each year we have 4-5000 participants on our courses.
It is really important for us to provide high-standard services for our customers. In order to guarantee the high standards we have a strict quality system.